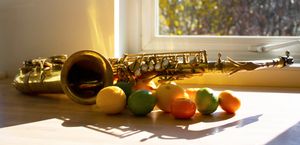 ABOUT US
B SAX PRO is an online hub bringing together sax players of all levels; from complete beginners to professional gigging players. We offer tailored resources to progress you as a player whatever your level, and specific sessions to help with stylistic playing such as pop solos or jazz improvisation. The Learning Sessions, produced by B SAX PRO, are in collaboration with pro sax players ensuring that you cover everything you will ever need to become the sax player you have always wanted to be! As well as our paid learning sessions we have a ton of freesources for you to start getting that B SAX PRO sound. Our community connects saxophonist together via forums, and online live sessions where you can ask questions and even present material you want feedback on! We can't wait to hear you B SAX PRO so tag us @bsaxpro on all social media platforms. 
After talking to many sax players we noticed a common thread - that the traditional way of learning sax has many limitations, particularly in our modern world...so we created B SAX PRO to give you everything you need in one place throughout your entire sax career! The Learning Sessions we created have been designed by a pedagogy specialist to ensure maximum results in the shortest time, and by teaming up with sax specialists we ensure that you don't miss out on any key information.  As all the B SAX PRO resources are online you can access them from anywhere, at any time, using any device. Unlike traditional lessons you can pause, rewind and rewatch any part of the session as many times as you need, allowing you to  develop at your own pace!  
We have condensed the core info into easy steps so you progress very quickly without spending hours practising. The Learning Sessions are based around popular songs or those sax classics that people always want to play! With our B BEGINNER PRO package you go from opening the sax case to playing Careless Whisper by Session Six! (don't worry each session is only around 25mins!)
Our Bolt-On videos cover areas that people often need a little more guidance with, these videos go into specific techniques  in more depth - pick and choose the ones that are relevant to you...and you can  turbo charge your playing in no time! 
B SAX PRO has collaborated with some amazing  professional sax players that all work in different parts of the industry so we can offer the highest quality content covering many genres... check out our colabs below!
We can't wait to see you become B SAX PRO!!